So let me get this straight, Serena and others are calling the game and yesterday's Women's Final's alleged 'bad calls' sexist, yet the women get the same prize money as the men regardless of the fact that the women only play three sets vs the men's five.  Yes, the game is sexist – in favour of the women!  Serena was getting coaching from her player's box, that was blatant.  Then she broke her racket, warranting a point penalty.  Then, she calls Chair Umpire Carlos Ramos a liar and a thief, warranting a full game penalty.
As someone who watches every major tennis tournament with enthusiasm and anticipation, I applaud Ramos for standing firm and enforcing the rules.  This is not an issue of past alleged poor officiating, it was about what Serena did yesterday, at the 2018 US Open Women's Final.
Should chair umpires enforce the rules more consistently, yes.  Should other players – men and women, be more harshly sanctioned, yes.  But this does not or should not detract from the reality that at yesterday's Final, Serena Williams was offside.  She (and her coach) committed each of the offenses and, based on the rules, should and was penalized rightly because of those actions.
It's not sexist: it's not about Cornet's shirt changing penalty or Serena's 2018 French Open catsuit sanctioning, it's only about what happened yesterday.  In my opinion, both Serena and Roger Federer get special treatment on almost every court on which they play, and that's not fair either.
Of course there's sexism in tennis.  I applaud Serena for what she and other female players have done to help level the playing field and elevate the women's game to its rightful place.  However, in this instance, this was an example of poor behaviour, not sexism – and poor behaviour is a universal human failing.
Below from The Guardian
Tennis players past and present have rallied behind Serena Williams after she claimed the sport was riddled by sexism following an extraordinary on-court tirade at an umpire during the US Open women's final.

The 23-time grand slam winner said she was fighting for the future rights of women players by publicly criticising the chair umpire Carlos Ramos for what she interpreted as double standards. The final was won by Naomi Osaka of Japan – with the enormously talented 20-year-old claiming her first major title – but it will be remembered for the controversy prompted by a furious outburst from Williams.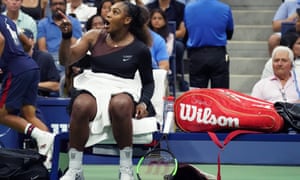 Read The Guardian's full article here.